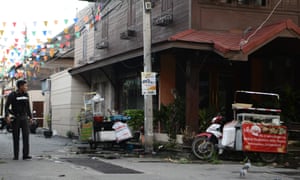 A series of apparently coordinated blasts detonated across
Thailand
has killed at least four people and injured dozens, including in the tourism hotspots of Hua Hin and Phuket.
The attacks took place late on Thursday and into Friday morning with Thai police being put on alert for further explosive devices.
The bombings have not been claimed by any group yet but Thai authorities were quick to blame "local sabotage" and rule out Islamist terrorism. "This is not a terrorist attack. It is just local sabotage that is restricted to limited areas and provinces," national police deputy spokesman Piyapan Pingmuang told reporters in Bangkok.
A Thai street vendor in Hua Hin was killed and at least 19 people were wounded, including seven foreigners, when two bombs hidden in plant pots exploded just before midnight on Thursday in a busy bar street.
One man also was killed and five others wounded when a device exploded in Trang, a province in Thailand's south, close to the house of the provincial police chief, local media reported.
Early on Friday, another two blasts occurred in Hua Hin, which lies about 200km (120 miles) south of Bangkok with one reported fatality.
Further south on Phuket island, a blast was reported on Patong beach, a resort area on the west coast popular with foreign tourists. There were further reports of explosions in Surat Thani, where one person was killed, and a number of blasts in Phang Nga.